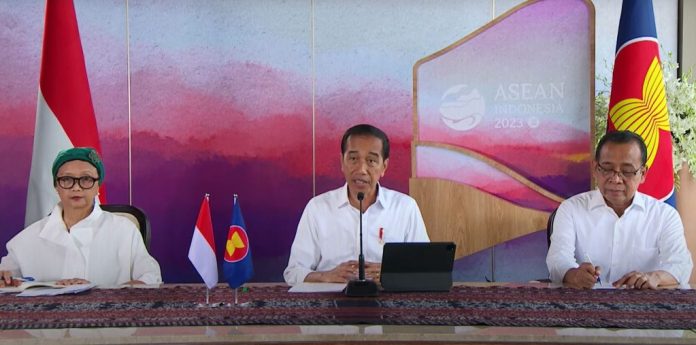 Human trafficking must be eradicated and this issue has to be discussed at the imminent ASEAN Summit as victims of this crime are people of ASEAN, including Indonesians.
Jakarta (Indonesia Window) – Indonesian President Joko Widodo has emphasized that human trafficking must be eradicated, and therefore he encouraged discussion of the issue, especially online scams, at the upcoming 42nd ASEAN Summit.
"I emphasize that the crime of human trafficking must be completely eradicated from the upstream to the downstream. I repeat, it must be eradicated completely," the president said in a press statement in Labuan Bajo, West Manggarai district, East Nusa Tenggara province, Monday.
Human trafficking must be eliminated and this crime have to be discussed at the 42nd ASEAN Summit because the victims of this crime are ASEAN people, including Indonesians, he said, adding that this ASEAN Summit is expected to agree to cooperate in exterminating the issue.
"At the summit, a cooperation document will be adopted to tackle human trafficking due to the misuse of technology," he said.
He also conveyed a number of human trafficking issues uncovered by ASEAN countries, and rescued 1,048 people from 10 countries, 143 of whom from Indonesia, on May 5 by the Philippine authority and representatives of other countries, including Indonesia.
In addition, the Indonesian government has likewise rescued 20 Indonesian victims of human trafficking in Myanmar, he noted.
"Recently, the Indonesian government has rescued 20 Indonesian victims of human trafficking from Myanmar. This is really something that is not easy, because the location is in a conflict area," he added.
The 42nd ASEAN Summit will take place on May 10-11, 2023, and President Widodo is scheduled to attend eight meetings, seven of which will be chaired directly by him.
The meetings will include plenary and retreat sessions, the IMT-GT (Indonesia, Malaysia, Thailand Growth Triangle) meeting, the BIMP-EAGA meeting (Brunei, Indonesia, Malaysia, Philippines East ASEAN Growth Area), as well as a series of meetings with parliament, business people, youth, and a high level task force tasked with preparing ASEAN's long-term vision.
This was stated by Indonesian Foreign Minister Retno Marsudi at a limited meeting on preparations for holding the 42nd ASEAN (Association of Southeast Asian Nations) Summit, on Thursday (April 27, 2023) at the Merdeka Palace, Jakarta.
Reporting by Indonesia Window