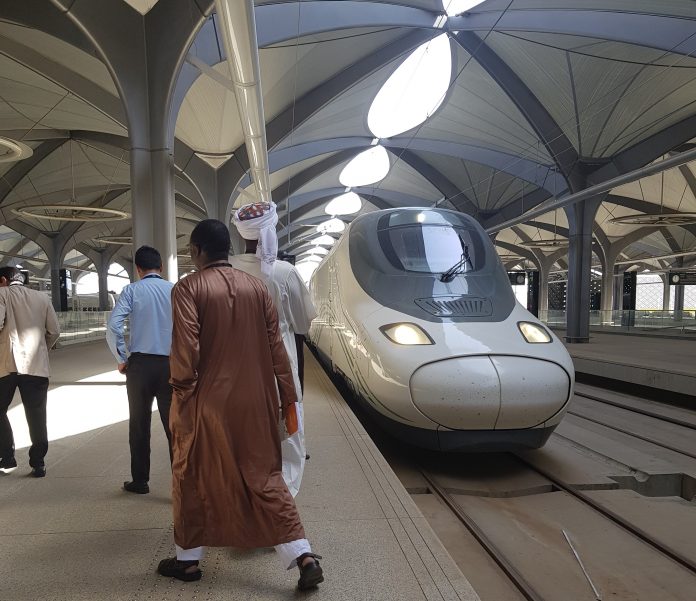 Jakarta (Indonesia Window) – The Haramain high-speed train service will resume service between Makkah and Madinah from March 31, 2021 (Shaban 18, 1442 Hijri), Saudi Gazette reported.
Vice President of the High-Speed Train of Haramain and the Holy Places Rayan Al-Harbi said that booking and issuance of tickets for the train service will be available through the train website from Monday (March 15), with routes between Makkah, Madinah, King Abdulaziz International Airport, Jeddah and King Abdullah Economic City of Rabigh.
He added that decision was taken to resume the train service after completing all the preparations for the operation of the service with foolproof and world-class safety standards to receive hajj and umrah pilgrims and visitors.
"There has been integrated preparation to receive the pilgrims during the upcoming Hajj season of this year," Al-Harbi said.
"The suspension period has enabled the Haramain Train to improve the efficiency of workers at stations and trains, by continue operating trial trips on the railway track, to ensure their readiness to start work upon resumption of operation by connecting four stations at a speed of up to 300 km per hour," he said.
Al-Harbi highlighted that the stations and train cars would be subject to all the precautionary measures and preventive protocols to ensure the safety of passengers from coronavirus.
Earlier, the Haramain train services resumed operation in December 2019 after a halt of two and a half months following a massive fire that struck Sulaymaniyah station in Jeddah.
Later, the service had been suspended again following the imposition of travel restrictions due to the coronavirus pandemic in March 2020.
The suspension period was used to complete all additional work so as to meet the increasing demand to transport travelers between the two holy cities.
There are 12 daily round trips between Makkah and Madinah with regular schedule trips five days a week and each train trip carries more than 400 passengers.
Reporting by Raihana Radhwa