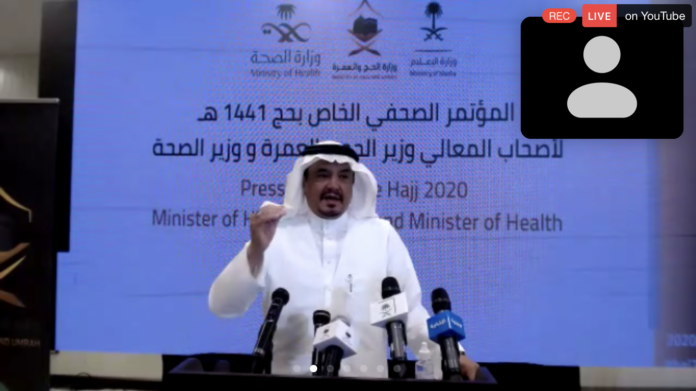 Jakarta (Indonesia Window) – The Government of the Kingdom of Saudi Arabia applies a transparent and strict mechanism in selecting those who register to perform the 1441 Hijri/2020 hajj pilgrimge.
Saudi Minister of Hajj and Umrah Dr. Muhammad Saleh Benten on Friday (July 24) stated there would be no exceptions in this year's hajj pilgrimage, according to the Saudi Gazette's report.
The minister stressed that the exception means that no officials are allowed to perform hajj rituals this year.
"Custodian of the Two Holy Mosques King Salman Bin Abdulaziz gave clear orders not to have any exceptions during this year's hajj," the minister said.
To prevent the spread of COVID-19 and maintain the safety of the pilgrims, the 1441 Hijri hajj pilgrimage is only held for no more than 10,000 residents of Saudi Arabia, consisting of 70 percent foreigners and 30 percent locals.
The hajj registration is opened through the Hajj and Umrah Ministry website on July 6-10, 2020 with strict requirements regarding health conditions.
Minister Benten explained that all plans for the implementation of the hajj pilgrimage this year have been arranged in a clear and strict manner, starting from the home quarantines.
"There was absolutely no human interference in choosing the pilgrims participating in this year's hajj. We had a transparent and robust mechanism in place," the minister explained in response to the selection process for pilgrims.
"The kingdom has worked to create the safest conditions for the pilgrimage as to ensure human safety while striving to inhibit any infection among pilgrims," he added.
Half a million pilgrims were in Saudi Arabia when the pandemic started last March.
Strict preventive measures were enforced to prevent a wider spread of the infection in Makkah and Madinah, Minister Benten pointed out.
He added that during the last decade, the kingdom served over 150 million Muslims around the world for performing hajj and umrah (minor hajj rituals).
Reporting by Indonesia Window