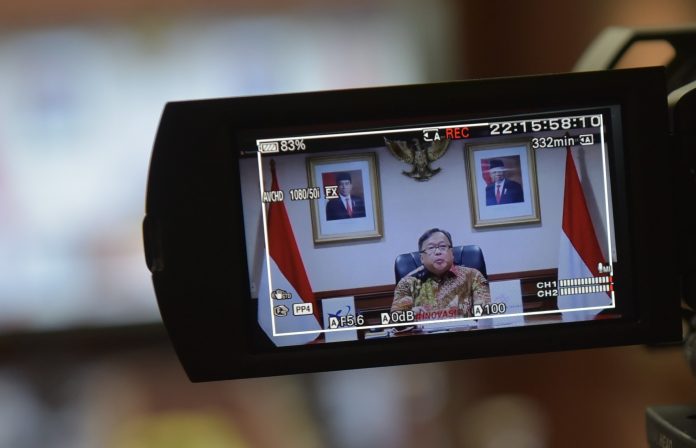 Jakarta (Indonesia Window) – The Indonesian Ministry of Research and Technology/the National Research and Innovation Agency (BRIN) has produced innovations for COVID-19 testing, tracing, and treatment, Minister of Research and Technology/Head of BRIN Bambang Brodjonegoro stated after here on Monday (Oct 12).
The minister said there were two innovations for a more accurate screening and testing for COVID-19, namely, GeNose which was created by a research team from Gadjah Mada University and RT-LAMP by the Indonesian Institute of Sciences (LIP).
"The two innovations are expected to reduce dependence on PCR testing and also increase the number of more accurate screening processes," the minister said.
GeNose detects the COVID-19 virus through breaths. It operates with a lower cost, but give more accurate results.
"The screening and detection processes are faster, less than two minutes," Bambang noted, explaining that GeNose has gone through its first phase clinical trial at a hospital in Yogyakarta, and the results show a higher accuracy rate than the PCR test, at 97 percent.
"We are currently conducting a more extensive clinical trials in various hospitals. If the level of accuracy is high, close to 100 percent, then GeNose can be a screening tool which will reduce dependence on PCR tests," he added.
Meanwhile, the RT-LAMP testing technology developed by LIPI is to replace rapid swab tests.
"Swab tests usually take a long time and require a laboratory, meanwhile with RT-LAMP, the test can be done in less than an hour and without using the BSL-2 laboratory," the minister said.
The RT-LAMP, he added, could also be a solution for the complexities of COVID-19 tests using PCR.
"It (RT-LAMP) is much faster, cheaper, and the level of accuracy is very accountable," Bambang said.
The minister said the production of the national COVID-19 rapid test technology launched in May this year will reach 350,000 per month, and it is estimated that next month the number will be 1-2 million per month.
Furthermore, the minister explained about the treatment or therapy for COVID-19 patients using conventional plasma technology that has gone through the first stage of clinical trials with no serious side effects.
Reporting by Indonesia Window