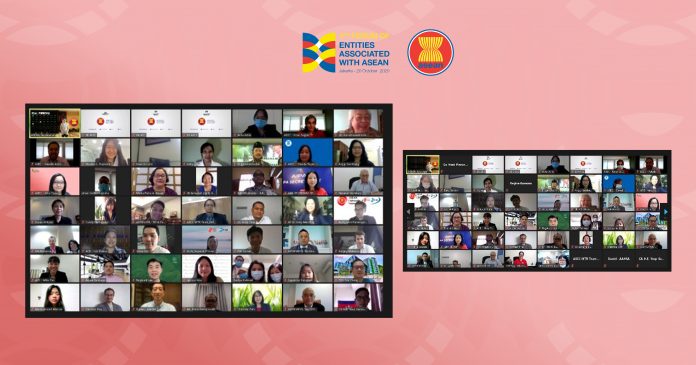 Jakarta (Indonesia Window) – The ASEAN Secretariat on Tuesday (Oct 20) hosted the 4th Forum of Entities Associated with ASEAN, which is an annual forum that provides a platform for the ASEAN accredited entities to bolster further cooperation with ASEAN Secretariat, ASEAN sectoral bodies and ASEAN related centres, and among themselves.
About 150 participants representing ASEAN parliamentarians, judiciaries, youth, civil societies, women, and business and professional associations attended this year's forum which took place online, according to a statement from ASEAN Secretariat received by Indonesia Window here on Wednesday.
In his welcome remarks, Secretary-General of ASEAN Dato Lim Jock Hoi encouraged the entities to explore collaboration with one another as it would assist the early realisation of the ASEAN Community Vision 2025.
"On its part, the ASEAN Secretariat, as always, will work with you, the entities and stakeholders, to further strengthen the ASEAN image and brand," he stated.
Meanwhile, Viet Nam's Permanent Representative to ASEAN Tran Duc Binh in his role as Chair of the Committee of Permanent Representatives to ASEAN (ASEAN CPR), shared his appreciation for entities' contributions to raise ASEAN awareness and foster community building.
"I hope this 4th Entities Forum will provide a platform to explore further cooperation," he said.
The participants shared their on-the-ground views on the progress of ASEAN Vision 2025 and possible areas for improvement.
As COVID-19 continues to hit the region and worldwide, the ASEAN entities acknowledged that the journey to recovery requires closer cooperation among various partners and stakeholders.
Deputy Secretary-General of ASEAN for Community and Corporate Affairs, Michael Tene, said the forum called upon ASEAN and its entities to work closer together in achieving ASEAN Vision 2025.
"I look forward to seeing more initiatives from associated entities to contribute to our efforts in ensuring a peaceful, resilient and prosperous region," he remarked.
There are currently 75 entities associated with ASEAN which are listed in Annex 2 of the ASEAN Charter.
They are categorised into parliamentarians and judiciary, business organisations, think tank and academic institutions, civil society organisations, and other stakeholders.
This Forum was supported by the German government through the GIZ cooperation project.
Reporting by Indonesia Window